I love to find fun seasonal clothes for little Miss to wear. It is so fun to match clothes with seasons, and holidays. It is fun to find cute clothes period for little girls, I could spend a fortune if my husband let me. When I saw all the cute personalized clothing in
Bubble Baby's shop
I was in heaven. She offers such unique styles and the personalizations are just fabulous.
The Bunny shirt she sent me for Little Miss has been a huge hit. Not only was Little Miss thrilled to have a bunny on her shirt, but anyone who has spotted it on her has given nothing but compliments, It is perfect for this Easter season, and she will definitely be wearing it to our local Easter egg hunt.
Bubble Baby's not
only offers cute shirts like this, but she has adorable
bows
,
pillow cases,
and
Aprons
.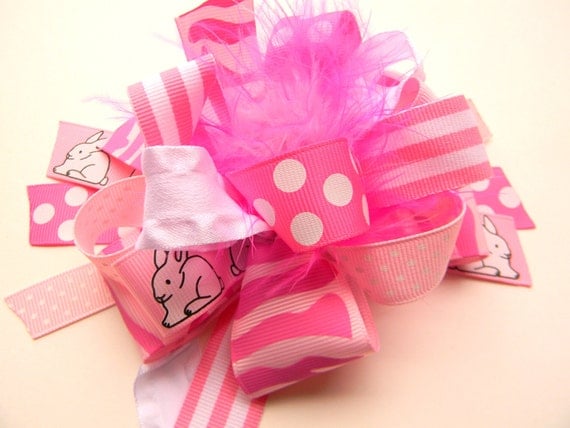 I just love this cute bunny bow. Also, a perfect seasonal item.
If you have a little girl,
Bubble Baby's
is a great place to go for clothes that will be sure to turn heads,